Aquacise Classes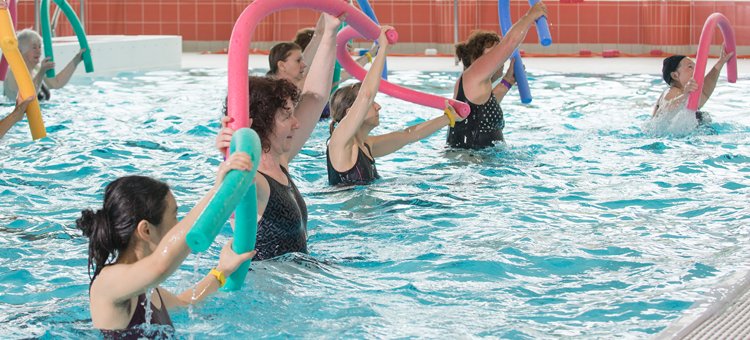 Try our Aquacise classes in Hertfordshire Sports Village Swimming Pool, joining like-minded people from Hatfield, St Albans and Welwyn Garden City looking to improve general fitness.
Aquacise is a medium-to-low impact aerobics class performed in the swimming pool with a variety of music. Whilst enjoying the water, aquacise provides cardiovascular conditioning, muscle toning and improves balance. It is a total body workout, without the stress of land-based exercise which can play havoc on your joints! Come and take a dip in the pool and get your water boogie on...
Aquacise class intensity level
Aquacise is an exercise with medium intensity. It will increase your heart rate but exercising in the water will be easier on your joints.
What does Aquacise improve?
Core: Aquacise classes include lunges, side leg lifts and other moves that work your abs and other core muscles.
Arms: Moves like underwater bicep curls work the arms with pool noodles and kickboards also used for added resistance.
Legs: Walking, jogging, jumping jacks and underwater kicks are popular in water aerobic workouts.
Glutes: Squats, lunges and high knee kicks will help to tone your glutes.
Back: Low impact water workouts will help strengthen your back muscles and ease back pain.
Flexibility: Exercise in the water helps improve your flexibility.
Aerobic: Even low impact Aquacise will get your heart rate pumping.
Strength: The resistance of the water helps tone muscles and build strength.
Low impact: Aquacise is a great low impact workout.
What health conditions is Aquacise good for?
Weekly Aquacise classes are a great way to improve your heart health. It can lower your blood pressure and LDL cholesterol whilst raising your HDL cholesterol. If you have diabetes, Aquacise can help you lose any extra weight whilst you stay cool in the pool. Like other aerobic exercises, it will help keep your blood sugar levels under control. It is easier on the feet than a lot of other exercises which is important as diabetes can cause problems with the nerves and blood flow to your feet, making you more likely to get injured.
When do Aquacise classes take place?
Where do Aquacise classes take place?
HSV Sports Centre Swimming Pool in Hatfield
Gym & Aquacise Classes Membership
Become a member of Hertfordshire Sports Village and take advantage of all the facilities, including the Gym, Swimming Pool and extensive range of Group Exercise Classes. Within your membership you can attend as many Aquacise Classes that you like. If you attend two Aquacise classes per week the cost for each class is just £5.71 with an annual membership! Combine this with regular swimming sessions and you get even more value for money from your membership.
Gym & Classes Membership