Barre Classes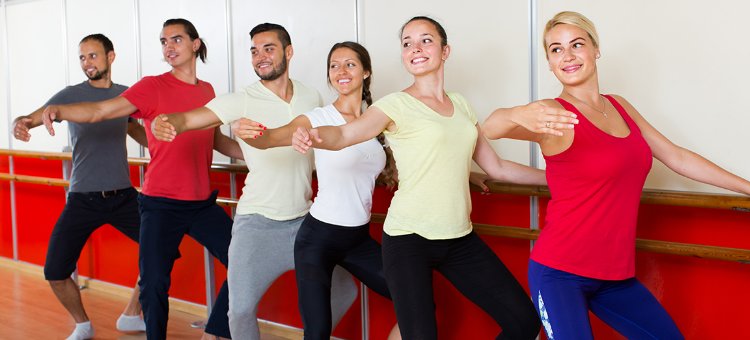 Try our Barre classes at Hertfordshire Sports Village, joining like-minded people from Hatfield, St Albans and Welwyn Garden City looking to improve general fitness.
Barre low impact, high intensity workout with a fusion of Ballet, Yoga and Pilates. Use the barre as a prop to balance whilst exercising to strengthen your muscles and your core. Barre will also help enhance posture and muscle flexibility.
Barre class intensity level
You might not leave this ballet-inspired class drenched in sweat but you'll definitely feel the burn after a class thanks to moves that target specific muscle groups. Classes move at a slower pace to other workouts with an emphasis on alignment, balance and core engagement.
What does Barre improve?
Core: You'll do a combination of ballet positions and Pilates moves to target the abs.
Arms: Arms: Classes include exercises like military presses, lateral arm raises and triceps lifts to work those arm muscles.
Legs: Ballet inspired moves such as plies, degage, leg lifts and extensions will help target the legs.
Glutes: Targeted moves like glute raises will help tone the glutes.
Flexibility: This ballet inspired workout will gently improve your flexibility.
Strength: These classes will use your body weight to strength and tone.
Low impact: As there is no jumping or bouncing in Barre classes, the sessions will be easy on the joints.
What health conditions is Barre good for?
Barre classes are an excellent choice if you have arthritis or joint problems. You'll build stronger muscles which will give more support to your joints and will decrease pain. Also, if you are recovering from a back injury or are pregnant and want to focus on building a stronger core, Barre can help you. You'll burn calories and keep your muscles strong and flexible without putting unneeded stress on your body.
When do Barre classes take place?
Gym & Barre Classes Membership
Become a member of Hertfordshire Sports Village and take advantage of all the facilities, including the Gym, Swimming Pool and extensive range of Group Exercise Classes. Within your membership you can attend as many Barre Classes that you like. If you attend two Barre classes per week the cost for each class is just £5.71 with an annual membership! Combine this with a regular workout in the gym and get even more value for money from a membership.
Gym & Classes Membership