FA Level 1 in Coaching Futsal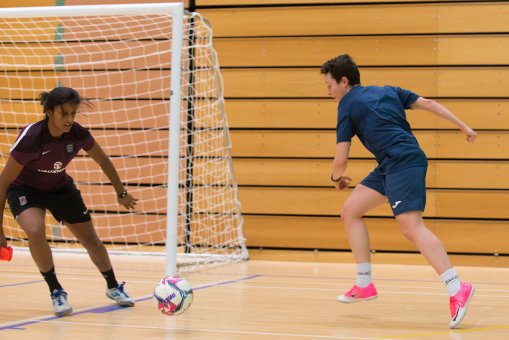 This course will provide a benefit to learners on the basis that it will provide them with an understanding of the techniques and skills related to the game of Futsal. This course will help learners organise and deliver basic Futsal practices. It will also provide learners with an introduction to the structure of the game, the Laws and the role Futsal can play in developing underlying techniques and skills footballers.
Course Requisites
Learners are required to complete prior or post to this course:
● Hold as a minimum a current FA Emergency Aid/FA Level 1 Introduction to First Aid in Football (IFAiF)* (can be completed post course if required)
● Have attended The FA Safeguarding Children Workshop within the last three years, or completed the re-certification* (can be completed post course if required)
*Certification won't be authorised until both courses have been completed and are in date.
Who is it for:
Anyone who wishes to better understand futsal and support the development of futsal players in the grassroots game.
Course Content:
Through the programme of training and assessment, learners will:
● Develop an appreciation and understanding of the basic techniques related to coaching Futsal
● Demonstrate an understanding of the underlying fundamental principles related to the game of Futsal
● Display a basic understanding of the Futsal Laws of the Game
● Develop an understanding of Futsal as a standalone game in its own right and the significant variances from conventional 5-a-side
● Develop an awareness of the part Futsal can play in the development of young players
Assessment:
There is no formal assessment; the progress of learners is monitored through the group activities and discussions.
Participants will be required to provide a FAN number at the time of booking.
To Book
Contact Lynne Pestle-Bass, l.pestle-bass@herts.ac.uk or 01707 281176