Group Cycle Classes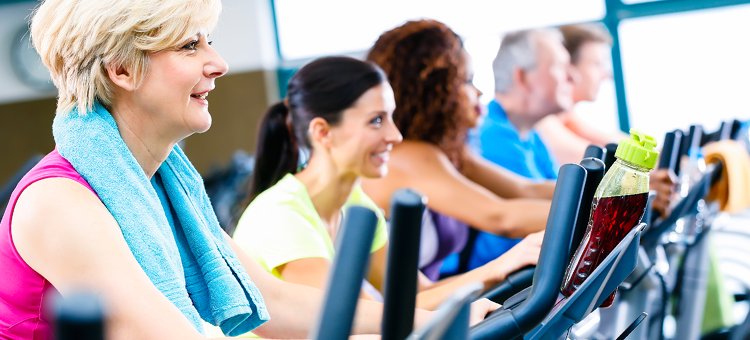 Try our Group Cycle exercise classes at Hertfordshire Sports Village, joining like-minded people from Hatfield, St Albans and Welwyn Garden City looking for an intense workout to improve fitness.
Prepare to drip with sweat, get your blood pumping and finish with an urge to want to come back for more!
Group Cycle is an energising, lively cardio workout on the bike to get you sweaty and burn plenty of calories to build strength and stamina – what more could you ask for? Our Group Cycle classes will help you shed fat, improve your heart health and boost muscle endurance. Your legs will get a serious workout and by the end of the class you will have a steady stream of feel-good endorphins. This full body workout will kick your cardio system into gear and ramp up the resistance…whatever your goals, get in the saddle, turn up the gears and get your pedal power game on.
Our instructors will lead the class through different types of cycling – uphill climbs, bursts of speed and short recovery periods with easy pedalling. So destroy that resistance – you'll feel like a warrior when you're done.
Group Cycle class intensity level
Group Indoor Cycling is intense. Your heart rate will soar and stay elevated for 45-60 minutes. There will be brief moments of slower pedalling but most of the class will be steady work.
What does Group Cycle improve?
Legs: In these sessions you need to expect non-stop leg work. Your quads, hamstrings, glutes and calves will feel the burn.
Glutes: All the pedalling throughout the class will be sure to engage your glutes.
Aerobic: Your heart rate will stay elevated throughout this super-charged cardio workout.
Strength: All that pedalling will boost your muscle strength and endurance.
Low impact: The nature of this class means your hip, knee and ankle joints will be treated gently as there is no pounding when you're spinning.
What health conditions are Group Cycle sessions good for?
Cycling helps your muscles use glucose more efficiently, so your blood sugar level is likely to go down. Scheduling your Group Cycle classes at the same time every day will help keep your blood sugars on an even level. Our bikes let you vary the intensity of the workout to match your fitness level and needs by adjusting your speed and/or resistance. If you are at risk of heart disease, a solid aerobic workout like Group Cycle can help bring down your blood pressure as well as your bad cholesterol whilst helping raise your good cholesterol. If you have arthritis, with your doctor's approval, Group Cycle could be the key to lifting your energy levels and mood, as well as helping to protect your joints.
Group Cycle can also be a good option if you are pregnant. You will get a good aerobic workout without further stressing your joints. It's safer than riding a bike outside and you won't have to worry about falls once your centre of gravity begins to shift with your growing tummy.
When do Group Cycle classes take place?
Gym & Group Cycle Classes Membership
Become a member of Hertfordshire Sports Village and take advantage of all the facilities, including the Gym, Swimming Pool and extensive range of Group Exercise Classes. Within your membership you can attend as many Group Cycle Classes that you like. If you attend two Group Cycle classes per week the cost for each class is just £5.71 with an annual membership!
Gym & Classes Membership