Mini Medics – First Aid for Children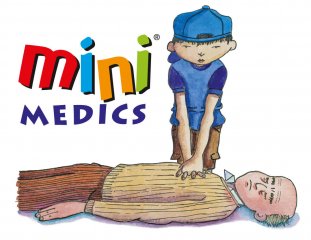 This is a basic introduction to First Aid and Defibrillation aimed at children between the ages of 8 and 13, but it suits children of any age. The course is kept at a basic level with no use of confusing terminologies and will show complete respect for the child's ability, make it educational and practical and instil the importance of helping someone who is poorly or injured. It is a chance to introduce children to the basics of First Aid and Life-Saving – including learning CPR skills and how to master using a defibrillator.
All children will receive a First Aid booklet and attendance certificate. They will also be provided with a worksheet to assist with their learning.
How does the course benefit children?
The course is tailored to each child's ability and is fun and educational, helping children understand the importance of staying calm in an emergency and helping someone who is unwell or injured.