Optimising Warm Up Strategies for Sport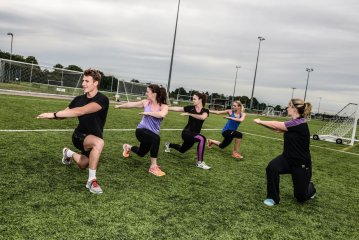 Learn how to optimise the warm up process on the pitch, and on the court, for both your own practice and your clients in this 2 hour workshop delivered by one of our UKSCA accredited strength and conditioning coaches. Our expert team have over 30 years of experience training athletes from grassroots to Olympic and World Class level. Our clientele have included Arsenal Women's FC, England Golf, England Squash and Saracen's Mavericks Netball, to name just a few.
What you can expect:
Gain a detailed understanding of how to optimally structure a warm up on the pitch and on the court.
Develop an understanding of how warm ups can influence subsequent performance.
Learn strategies to decrease the risk of injury and individualise pre-exercise preparations.
Build a large toolbox of warm up games, activities and techniques that you can immediately implement in your own practice.
This workshop is well suited for:
Athletes.
Personal Trainers.
Sports coaches.
PE teachers.
Physiotherapists.
Sports degree students.
Aspiring strength & conditioning coaches.
Duration: 2hrs