Strength & Conditioning Level 3 Course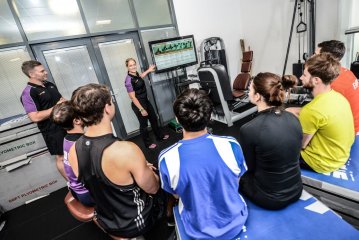 This workshop is designed to help learners apply the scientific principles of training and adaptation, as they build and lead well-constructed strength and conditioning programmes. Participants will both learn how to, and practice, designing, delivering and evaluating training programmes through a variety of periodisation strategies. This will enable successful workshop attendees to prepare fully for their UKSCA accreditation and to seek employment as an S&C coach in a number of settings such as sports clubs, schools or with athletes/teams.
This workshop is well suited for: athletes, sports coaches, PE teachers, physiotherapists, sports degree students, aspiring strength & conditioning coaches.
Pre requisites: Completion of the S&C Level 1 & 2 workshops.
Duration: 1 day workshop (9:00am - 4:30pm)
Course content:
Learn how to conduct a comprehensive fitness testing battery for an athlete.
Develop your coaching toolkit with advanced resistance training strategies.
Learn the mechanisms of adaptation for hypertrophy, Conduct sports needs analysis, providing you with the skillset to identify the key biomechanical, physiological and injuries of your chosen sport.
Learn how to apply linear, undulating and conjugate methods of periodisation
Additional information:
The course will be delivered through both practical and theory content.
Delivered in the Performance Herts gym.